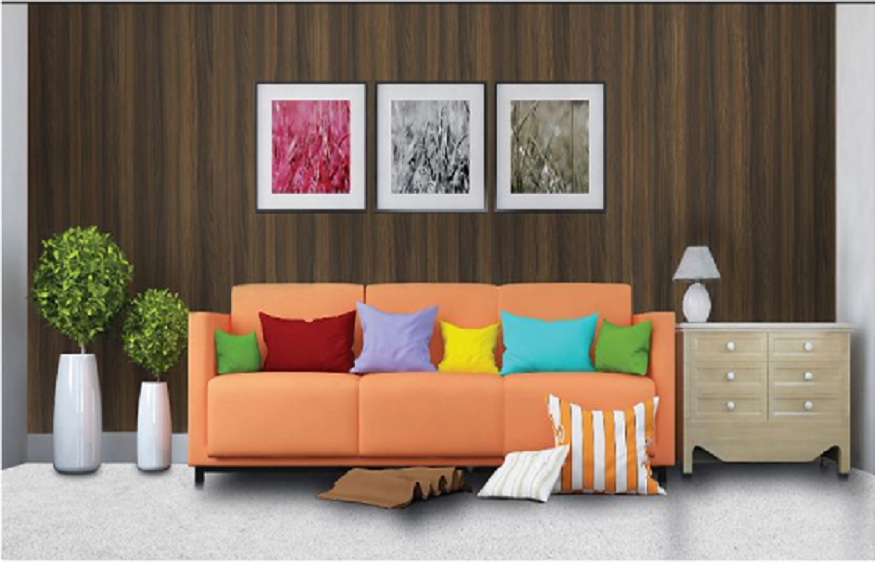 Laminates are a typical surface-finishing material used in the home for furniture, floors, and walls. Laminate is preferred over other finishing materials because of its elegant look, quality, and cost. Laminate flooring may be found in both home and commercial environments. You have a variety of colour and pattern options if you're thinking about utilising laminate for your next interior design project. Here's a deeper look at laminate flooring and why it's so popular among homes.
MDF, particleboard, plywood, wooden furniture, wall panels, and flooring are all often finished with laminates. They're basically composite artificial materials made by pressing together microscopic layers of flat paper and plastic resins. On the upper layer, a decorative pattern or colour is printed.
Laminate flooring is popular because it is simple to install on any type of wood, including plywood and MDF panels. Solid wood or veneer sheets are more expensive. It can persist for up to three decades. It's easy to clean and maintain because of its flat surface.
Types of laminates
Industrial laminates–
Industrial laminates are more durable and have a higher strength. For use in hospitals and other industries, they include high-performance laminates that are fire retardant, antimicrobial, and chemical resistant.
Decorative laminates-
The range of textures, patterns, colours, and finishes offered make decorative laminates appealing. The thickness of this material is around one mm. Due to their aesthetic and protective features, they are the chosen material for shelves, cabinets, doors, and office cubicles.
Post formed laminates–
Post-formed laminates are thinner and more flexible than regular laminates. Tables, columns, and other objects are wrapped in them.
Compact laminates–
These laminates are thick and self-supporting and do not require any additional adhesive.
Laminate sheets come in a variety of patterns and colours. They might be glossy or matte. Leather treatments are also available for laminates. The laminate manufacturercommonly makes the size of the laminates in 8ft × 4ft.
Laminate flooring mimics the appearance of real wood. Solid wood is more harmful to the environment than this substance. It outperforms wood in terms of dent resistance and moisture absorption. However, in order to keep the laminate pattern appearing attractive and polished for years, regular care is required. Unlike wood flooring, laminate flooring cannot be fixed once it is damaged.
Easy to install
It is feasible to install laminate flooring over an existing floor. Unlike vitrified tile or marble floors, laminate flooring does not require grout, cement, or adhesives. The subfloor must be flat, smooth, and clean for simple installation. Installing laminate cabinets at home is just as straightforward. The sheets may be glued to the furniture surface with high-grade adhesives. Scrub the entire surface well before applying the sheets.
Easy to Maintain
To keep the laminate pattern looking beautiful for many years, it must be maintained on a regular basis. The material is easy to clean, unlike real wood. It's worth mentioning that prolonged contact with water might deform the surface. Furthermore, the material's fragility renders it vulnerable to chipping. Dry mopping is advised for the material even while doing intensive cleaning. Wipe the surface with a wet cloth as soon as water or any liquid falls on it to avoid damage.
The Bottom Line
These are less expensive than veneers as a wood finishing material. Laminated wood flooring is a cost-effective and environment friendly alternative to solid hardwood flooring.
The above statements show how reliable laminate sheets are and that they are the best option for the interiors of a modern home. They do not disappoint in any aspect. CenturyPly provides the best laminates for your home.