Researching the benefits of warehouse management systems is important for businesses that want to grow.
Increasing companies that keep goods on hand will benefit greatly from using a warehouse management system that is both effective and efficient (WMS).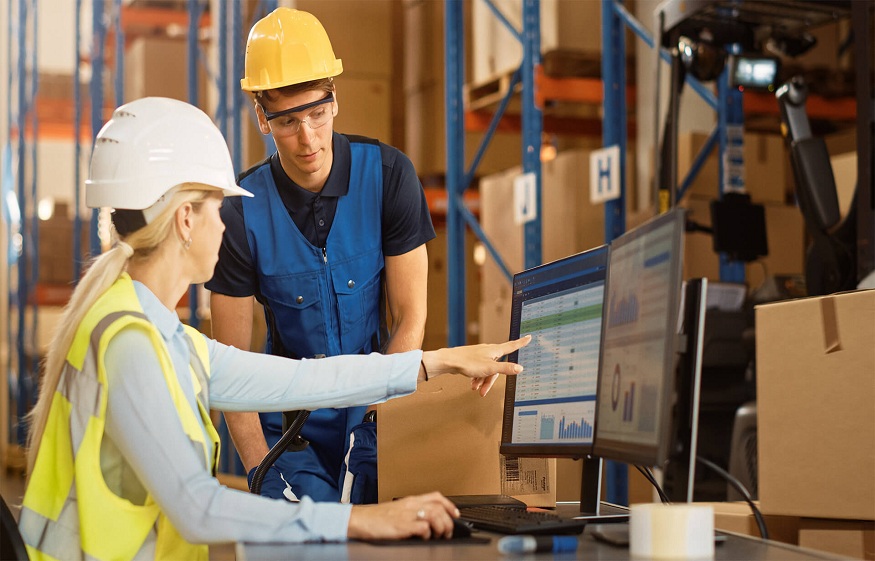 By keeping an eye on work processes at different levels, improving productivity, and making the best use of their assets, the WMS will help them run their business more efficiently.
Automation of the warehouse management system makes it faster, more accurate, and more productive. This makes it easier to keep track of inventory. Think about the most important parts of a warehouse management system that are listed below.
Optimized Warehouse Space
Using software made just for warehouse management can make a big difference in how goods move through a warehouse. This software looks at both how much work is being done and how the materials being stored are made.
Use of floor space analysis is used in WMS installations to figure out how space should be used most effectively.
 It gives us a chance to cut down on waste, like using too much expensive floor space and wasting time looking for things.
When a better WMS is used, there will be less unnecessary material movement, placement, and retrieval that take a lot of time.
Finding the best places to store goods, supplies, and machines in a warehouse can help a facility cut its operating costs.
Visibility in inventory
One of the best things about warehouse management systems is that they make it easy to see what's in stock.
Through the use of barcodes, serial numbers, and RFID tags, WMS software gives you information about your inventory in real time.
Users can track the movement of each item as it comes into the warehouse, moves around on the floor of the warehouse, and is moved from one part of the truck to another during transport because of these technologies.
This kind of openness is needed to make predictions about demand, which can then be used to find out what services and goods customers want most at different times of the year.
These estimates give the management team information that helps them decide which products to invest in and which ones are more likely to lose market share.
Productive Labor
A warehouse management system that takes into account workers' skill levels, how close they are to each other in the warehouse, their equipment, and the tasks that are available in the warehouse can better give the right job to the right person at the right time.
The WMS can put workers on the tasks that will have the most impact while also figuring out which workers are best suited to do the tasks at hand.
Using predictions about the workforce, the system can assign tasks every day and make schedules in an efficient way.
By scanning items as they come into a warehouse and as they move around the building, there is less need to double-check, which saves time and speeds up the process of keeping track of things.
Scanning helps improve customer service by making picks more accurate and reducing the number of wrong picks.
When work is spread out in the right way, costs go down, space is used better, and workers are more productive.
Traceable Inventory
With the help of lot, batch, and serial numbers, which are all used by warehouse management systems, goods in stock can be traced back to where they came from.
The lot or batch number describes the group of parts that were used, while the serial number is a unique way to identify a single item.
As was already said, a WMS inventory monitoring system gives you full traceability by linking accurate lot/batch or serial numbers to incoming and outgoing shipments. This is done by the system's ability to report.
Its ability to track materials cuts down on duplication, lets inventory be distributed correctly, and stores information that can be used in the future for tracking, service maintenance, or recalls.
Enhanced Morale
When things are going well at work, employees tend to have a more positive attitude about their workplace.
This is especially true when people try to manage their time in a way that gives them the consistent impression that they are using it well.
Especially in warehouses that give holiday bonuses, stress goes down and employee morale goes up because they are working harder and making more money.
Even though a WMS system won't solve all of your employees' problems, it could make a big difference in how you handle management and manual workers.
If the work area is more calm and well-organized, your employees might have more time to think before trying a dangerous lift or using equipment in a questionable way.
Your staff will be safer, more productive, and happier as a result of all of this, which will help your company make more money overall.
Billing Management
Most of the top WMS solutions on the market either have billing management built in or tightly integrate third-party software to provide this functionality.
With this technology, you can do something called "activity-based billing." It keeps track of all the things that happen in a warehouse that have to do with a certain provider and then figures out the fees.
It is possible to connect WMS software to different sales channels, which means that suppliers and distributors can accept online payments.
Integrated Shipping Solutions
Planning for both coming in and going out can go smoothly if a WMS is used that lets inventory and equipment moves be changed.
When the inventory is scheduled to arrive at a certain date and time, these details can be optimized by taking into account the available staff and storage space.
With the help of WMS solutions, it is possible to plan both the docks for ships coming in and the doors to the receiving docks.
Some warehouse management systems (WMS) can be linked to transportation management systems (TMS) to improve how the supply chain works.
Consumers can also get information ahead of time about shipments and how things are coming because they can track their own inventory and choose how things are packed.
Customers and advance shipping notices can talk to each other more directly because of the WMS system.
Improved Auditing and Security
When entering transactions, most warehouse management software requires employees to use different user identities.
This creates a paper trail that shows how certain staff members are linked to certain transactions. Because of this, people are more responsible, and the risk of theft and other problems is lower.
In addition, it gives companies the chance to find new ways to train their employees and other ways to change the way their employees act.
Also, user-defined access levels keep outsiders from getting to certain reports and data that they shouldn't.
Because of this, each user can only see the data they need to do their work. This meant you didn't have to worry as much about keeping company secrets safe or losing your edge over the competition.
Enabling Automation
With the help of warehouse management systems, more ways to automate can be added to a warehouse.
Mobile phones make it easier to switch from paperwork to digital work, which can help streamline tasks that are given to people within an organization.
This makes the activities easier to do and makes the processes easier to scale up. It also makes the data more accurate.
One way that automation makes it possible to improve tasks that have already been done is by letting people use more efficient methods.
There are many different kinds of automation that can be used, such as robotics, analytics-driven movements, and artificial intelligence. Here are some examples of these types of automation.
With the help of warehouse management systems, these methods can be put into action. These systems make it possible to get the basic parts needed for collecting, recording, and sending information.
Conclusion
At this point, it's easy to see why using WMS is a good idea. Implementing a well-thought-out warehouse management system is the best way for a company to quickly improve its success and profitability.
When looking for a warehouse management system for your business, it's important to choose one that has the features your business needs.
When it comes to WMS, there is no one strategy that works for everyone. The best warehouse management system (WMS) fits your company's culture and business model and gives it the flexibility, functionality, and technology it needs to grow and thrive.