Exploring Your Options: Ceramic, Porcelain, and More
Often overlooked in home design, the laundry room can be transformed from a purely functional space into a stylish and inviting area with the right flooring. In this post, we will explore various laundry room ideas that not only enhance durability but also add a dash of aesthetic charm to your interior design.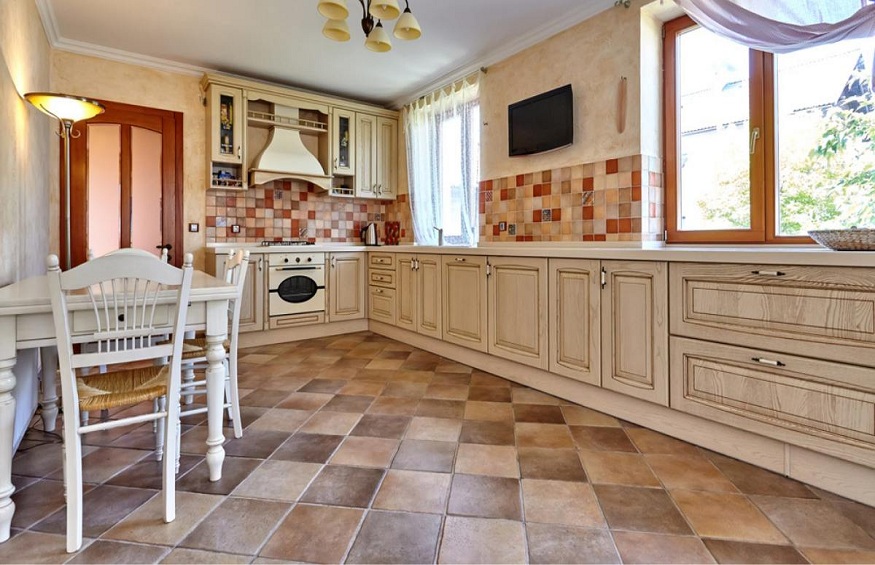 From ceramic to porcelain, we've got an array of amazing ideas to elevate your flooring for home. Whether you're renovating your existing space or building a new one, these innovative ideas for flooring of home are sure to inspire and guide you in choosing the perfect tile for your laundry room floor.
So, let's get started and dive into the world of beautiful, practical, and trendy laundry room floor tiles!
What to Consider When Choosing Tiles for Your Laundry Room?
When choosing tiles for your laundry room ideas, there are several key factors to take into account. The right choice can enhance the room's functionality, while also adding a touch of style.
1. Moisture-resistance
Laundry rooms are often exposed to high levels of humidity and water spillage. Therefore, it's crucial to opt for moisture-resistant tiles like ceramic, porcelain, or vinyl. These materials prevent water absorption and make your floor more resilient.
2. Mold-resistance
Along with moisture comes the risk of mold growth. Tiles that offer mold resistance, such as porcelain and natural stone, can help maintain a healthy and clean environment in your laundry room.
3. Stain-resistance
Laundry products, like detergents or bleaches, may occasionally spill and cause stains. Stain-resistant tiles, like glazed ceramic or porcelain, can keep your laundry room looking pristine.
4. Durability
Given the heavy appliances and frequent foot traffic in the laundry room, durability is a key factor. Consider hard-wearing materials like porcelain or stone tiles that can withstand the test of time.
5. Maintenance
Easy-to-clean tiles can make maintenance a breeze. For instance, glazed tiles resist dirt and dust, making them easy to clean with a simple mop or vacuum.
6. Cost-effectiveness
Lastly, consider your budget. While stone tiles might offer great durability, they can be costly. On the other hand, options like vinyl or ceramic offer a great balance of cost and performance.
Types Of Laundry Room Tile Flooring 
1. Ceramic Tile
A popular choice for many homeowners, ceramic tiles are both durable and affordable. They come in a wide range of colors, patterns, and sizes, allowing you to customize the look of your laundry room. These tiles are also resistant to water and stains, making them ideal for a laundry room environment.
2. Porcelain Tile
Porcelain tiles are known for their outstanding durability and water resistance, which makes them suitable for high-moisture areas like laundry rooms. While they are typically more expensive than ceramic tiles, their longevity can make them a cost-effective choice in the long run.
3. Patterned Tile
If you're looking to add some visual interest to your laundry room, patterned tiles are a great option. These can be made from various materials, including ceramic and porcelain, and they come in an array of designs and colors. Just be sure to choose a pattern that won't easily show dirt or stains.
4. Peel and Stick Floor Tiles
For those on a budget or looking for a quick DIY project, peel and stick floor tiles can be an excellent choice. These vinyl tiles are easy to install and replace if damaged. They offer water resistance and are available in a variety of styles, including options that mimic the look of more expensive materials like stone or wood.
Choosing the right flooring for home requires careful consideration of various factors, such as moisture resistance, durability, maintenance, and budget. From the classic charm of ceramic and porcelain tiles to the ease and affordability of peel-and-stick options, there's a variety of materials available to suit different needs and aesthetics. Patterned tiles can add a unique touch, elevating the design of your space.
Remember, the goal is to create a balance between the functionality and style of your interior design. By considering all these laundry room ideas, you can transform your laundry room into a stylish and efficient space that makes chores a little more enjoyable.