It's quite easy to turn your ordinary lifestyle into one with the times, and we're talking about technology when we say that. Smart homes were once merely a concept of the future. Well the future is now and it's not only just easy but also affordable if you wish to turn your home into a smart home.
So what is a smart home? Is it built different? Nope! It's your existing home using technology to add automation features. There was a time where the whole technology itself would have to be installed in your home by professionals, like having remote controlled lighting or automatic blinds for instance. However with the development of smart devices, it is much more affordable and they have a more DIY concept when it comes to installation.
Smart Devices Vs. Their Ordinary Counterparts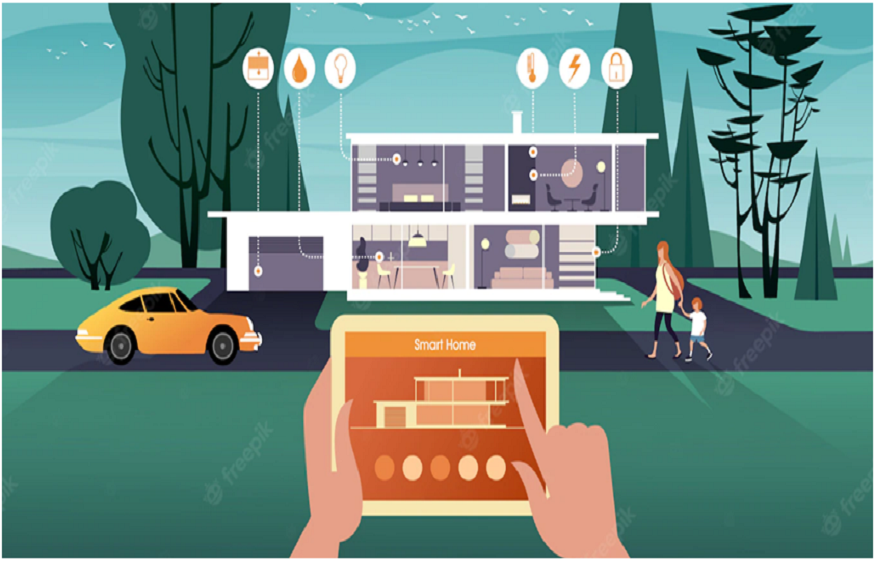 A lot of ordinary devices have been replaced by smart versions. You have smart door locks that provide keyless and tamperproof entry into your home. Then there are smart lights that can be controlled via smartphones or voice enabled commands – same for smart thermostats. Smart cameras provide a much better means of surveillance of your home inside and out regardless of weather conditions, regardless of the hour of the day.
So are smart devices much better than their ordinary counterparts? Absolutely! If we were to categorize what features are provided by smart devices in general, then it would come down to 3 things:
Automation – A smart home concept is based around the fact that it brings automation around the household.
Energy Efficiency – automation is brought about considering smart devices are controllable through smartphone apps and voice enabled commands when synced to voice assistants. This essentially leaves no room for carelessness on the homeowner's part. Certain devices also include built-in features for the purpose of energy efficiency. It is essential to consider your lifestyle, energy demands, and regular monthly electricity use when making appliance purchases; also, look for cheap energy suppliers like New Power to save money
Security – a lot of smart devices are great alternatives to home security measures like that of smart cameras, video doorbells and smart locks.
How Do You Make A Smart Home Smarter?
You would think a smart home is already smart once you've installed the said devices in your home. And yes, it makes things easier and accessible via their associated smartphone apps. But what if we told you there was a way to integrate all that? Have one control center of sorts for your smart home? Because you can make your smart home smarter. Here's what you can do.
Buy a Smart Speaker
What is a smart speaker? As the name itself suggests, it's a speaker obviously. But it can play music from your Spotify or Apple Music playlists or even from the billions of options on YouTube. It can even sync to other smart devices as well as your smartphone and Smart TV, but here's what it really does: smart speakers feature built in Voice Assistants – like the Amazon Alexa in the Echo Smart Speaker, or the Google Assistant in the Google Home smart assistant speaker.
A voice assistant featured in a smart speaker allows for voice enabled control over any and every device synced to it. That's right, you won't have to lift a finger to turn down that smart thermostat, or get up to lock the front door yourself when the voice assistant is already synced to the smart lock on the front door. It truly makes the work seamless.
Invest In A Smart Home Hub
When we say invest in a smart home hub, it would be ideal for those that have multiple smart devices installed in their homes. Why? Because smart home hubs act as a bridge, connecting devices together to quite literally follow through with commands. The protocols that smart home hubs usually work with are Zigbee, Z-Wave, Bluetooth and Wi-Fi. So if two devices connected to the hub use two different methods of protocol, the smart home hub essentially translates the communication to allow for the other device to carry out the set command.
A smart home hub basically is the control center of the home, for any of the devices using the internet. It's a brilliant concept that gives your home the futuristic vibe.
Once you start using smart devices around your home, you'll find it hard to go back to using the ordinary ones. There is a whole market out there of smart devices, catering to different categories of such. You'll find anything from smart sprinklers to smart smoke detectors, smart cameras to smart Wi-Fi routers – then there are also smart kitchen appliances which lean towards the pricier side. But the price for smart devices in general is justified given the unique features they bring forth.
You can find a lot of affordable smart devices for your home here at FirstEnergy Home's website: www.firstenergyhome.com. Click on their Smart Home catalogue and browse through the collection.